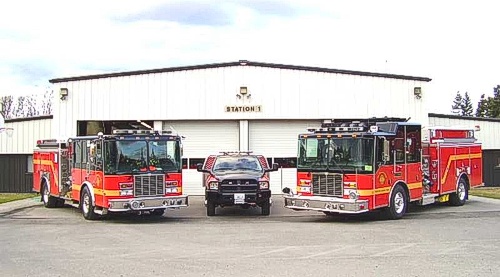 S.E. Thurston Fire Authority provides Emergency service to the City of Yelm, Rainier and surrounding unincorporated areas. We serve approximately 33,750 citizens who reside in the surrounding 84 square miles.
---
New Happenings
SE Thurston Fire Department Teams up with the Yelm McDonalds and raises money for the Ronald McDonald house in Seattle. The Ronald McDonald house is a "home away from home" for families so they can stay close to their hospitalized child at little or no cost. The cost to stay at the Seattle house is $25.00 per night and the money raised by SE Thurston Fire Department and Yelm McDonalds will cover that cost.
---
Avery Saves Man's Life at Walmart
Gary Avery, his wife Erika, son Joshua and Steve Lippard were driving in the Yelm Walmart parking lot when a man pushing a shopping cart suddenly collapsed in front of them. Gary and Steve jumped out of the car to give the man CPR in the pouring rain while Erika called 9-1-1. They provided CPR until the paramedics arrived and Gary continued to assist paramedics until they reached the hospital. Gary had CPR training as a requirement for his job and his actions and knowledge saved a life on that rainy day. Our most sincere thank you to the Avery family and Steve Lippard.